Recreational Gymnastics
Gymnasts from 18 months to 18 years
Our program includes Parent & Tot classes for students from 18 months to 3 years. This is a great way to get toddlers active and moving with a purpose.
Preschool classes are designed for students that are ages 3 years to 5 years. These classes are a way to learn the ABC's of movement while they are in a gymnastics setting.
Recreational classes are divided into levels based on ability and are named Ruby, Amethyst, Jade and Sapphire in ascending order of ability. Most students will start in the Ruby class until their skill level is determined. These classes are designed for girls from 5 years to 11 years. Boy's Class will focus on boys that are ages 5 years and up with the 6 men's events in gymnastics.
For girls that are over the age of 11, we have a class called 12 & Up that encompasses all abilities and skills of gymnastics.
Use the buttons below for more information or to print forms for enrollment.
School Year Schedule Registration Form Participation Waiver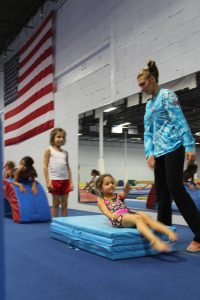 Team Revolutions
(Gymnastics)
Dutchess County Gymnastics is a USA Gymnastics Member Club. Team Revolutions is one team that has members that compete within the USA Gymnastics Junior Olympic program and the USA Gymnastics Xcel program.
The competitive program includes Junior Olympic levels 3-10 and Xcel Divisions Bronze, Silver, Gold, Platinum and Diamond.
Call 845.896.5270 for more information about joining Team Revolutions.
Team Revolutions
Revolutions All Stars
(Cheer)
Revolutions All Stars is a competitive cheer team that is a member of US All Star Federation.
While the team is new to Dutchess County Gymnastics, the team has had immediate success and has grown considerably since forming. This is all possible because of the fantastic coaches and staff that have supported their endeavor.
Call 845.896.5270 for more information about joining Revolutions All-Stars.
Revolutions All Stars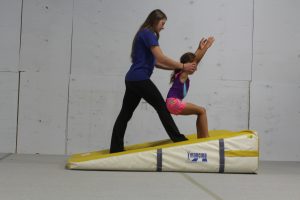 Other things we offer!
Tumbling classes for all abilities. Look at the schedule if you are in need of tumbling skills for cheer or dance.
Open Gym on Fridays from 6:45-8:45pm. Open gym is popular with athletes looking for some extra time to work on skills. It's also very popular with the parents (who doesn't want an extra 2 hours of quiet time?)
Birthday Party? Check out the birthday party package that is available on most Saturday afternoons or early evenings. Call us for availability.